Four suspects, arrested and remanded in connection with the violent incidents which took place in Kandy, have been released on bail. MORE..


23 Jun 2018 (12:04 AM)



The Colombo High Court has acquitted three individuals who had been charged for the possession of several firearms including T56 rifles, found hidden at Sri Bodhirajarama Viharaya in Maligawatta during the presidential election in 2010. MORE>.


22 Jun 2018 (11:45 PM)



The individuals responsible for the killing of a leopard at Ambalkulam area in Kilinochchi will be punished accordingly, says Deputy Minister of Sustainable Development, Wildlife and Regional Development Palitha Thewarapperuma. MORE..


22 Jun 2018 (6:35 PM)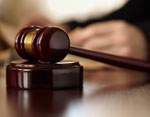 Chief Justice Priyasath Dep has appointed three High Court Judges to hear cases in the country s first Special High Court Trial-at-Bar which will be established to try high-profile financial fraud and corruption cases. MORE..


22 Jun 2018 (5:30 PM)



General Secretary of the Bodu Bala Sena (BBS) organisation Ven. Galagoda Aththe Gnanasara Thero has been granted bail by the Homagama Magistrate s Court. MORE..


22 Jun 2018 (4:49 PM)



Three members of the criminal gang involved in today s robbery at the jewellery shop in Matara, including underworld figure Kosgoda Tharaka , have been arrested after they were hospitalized with gunshot wounds. MORE..


22 Jun 2018 (4:42 PM)



Two individuals in possession of LTTE military uniforms, flags of the terrorist organization and a stock of claymore explosives have been arrested this morning (22) on the Oddusuddan road in Mullaitivu. MORE..


22 Jun 2018 (3:07 PM)



The University of Rajarata has been closed until further notice as per a decision taken by the administration of the university. MORE..


22 Jun 2018 (2:51 PM)



One of the police officers injured in the shootout with a gang of armed robbers in the Matara town this morning has succumbed to injuries while receiving treatment at the Matara Hospital. MORE..


22 Jun 2018 (2:11 PM)



The appeal filed challenging the verdict delivered on Ven. Galagoda Athhe Gnanasara Thero will be taken up today (22). MORE..


22 Jun 2018 (1:54 PM)



The investments carried out for the development of the country s sports sector has equal importance to the investments on the education sector, says Minister of Education Akila Viraj Kariyawasam. MORE..


22 Jun 2018 (1:42 PM)



At least five persons including police officers and a woman were wounded following an exchange of gunfire between policemen and a gang of criminals who had attempted to rob a jewellery store in Matara. MORE..


22 Jun 2018 (12:48 PM)



Two unidentified gunmen on a motorcycle shot and killed a 30-year-old man on a bicycle near the Wewala Junction in Hikkaduwa on the Galle -Colombo main road, the Police Spokesman said. MORE..


22 Jun 2018 (11:11 AM)



The Government has issued an extraordinary gazette notification listing the names of 14 individuals living overseas with links to the LTTE and banning them from entering Sri Lanka, by placing them in the list of designated persons. MORE..


22 Jun 2018 (9:52 AM)



President Maithripala Sirisena says on January 8, 2015, the people of this country contributed to the change the administration of the country which was increasingly moving towards a dictatorship. MORE..


22 Jun 2018 (9:29 AM)



A foreign national was apprehended by the Customs officials, today (21), at the Bandaranaike International Airport (BIA) for attempting to smuggle out foreign currency. MORE..


22 Jun 2018 (1:00 AM)



Chairman of the ICC Code of Conduct Commission, Michael Beloff QC has been appointed as the Judicial Commissioner to hear Dinesh Chandimal s appeal tomorrow (22).


21 Jun 2018 (11:43 PM)



A Sub Inspector has been sentenced to a three years rigorous imprisonment after he was found guilty of three charges including submitting of a forged document to the courts for the Maligakanda Additional Magistrate to grant bail to a suspect. MORE..


21 Jun 2018 (7:39 PM)



Israeli Prime Minister Benjamin Netanyahu s wife Sara was charged on Thursday with fraud and breach of trust after a long police probe into allegations she falsified household expenses, the justice ministry said. MORE..


21 Jun 2018 (7:18 PM)



The Water Board says that the water supply to all areas within the limits of the Colombo Municipal Council will be at low pressure for 12 hours on Saturday (23). MORE..


21 Jun 2018 (7:13 PM)