A Sub Inspector has been sentenced to a three years rigorous imprisonment after he was found guilty of three charges including submitting of a forged document to the courts for the Maligakanda Additional Magistrate to grant bail to a suspect. MORE..


21 Jun 2018 (7:39 PM)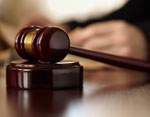 Chief Justice Priyasath Dep has appointed three High Court Judges to hear cases in the country s first Special High Court Trial-at-Bar which will be established to try high-profile financial fraud and corruption cases. MORE..


22 Jun 2018 (5:30 PM)



The University of Rajarata has been closed until further notice as per a decision taken by the administration of the university. MORE..


22 Jun 2018 (2:51 PM)